I discovered Kobe while researching for my day trip to Himeji. Since I intend to spend only half a day visiting Himeji Castle and its surrounding Kokoen Garden, I wanted to find something else for the rest of the day. And Kobe fits perfectly being on the way back to Osaka.
As I dig deeper into the many websites on Kobe, it seem like half a day will not be enough to cover everything I want to see and do. I will have to play by ear and make decisions as I go along. 5 pairs of Kobe to-do. Completing all 5 will be a miracle.
Waterfall & Herbs (Nature)
Next to the Shin-Kobe Station is a ropeway (cable car) that brings you up the southern slopes of Mt Rokko.  Along the way up is the Nunobiki Waterfall and at the end of the ride is the upper entrance of the Nunobiki Herb Garden. I plan to hike up the 20 mins trail from the base of the ropeway station to see the waterfall, and hike a further 20 mins to the middle station where the lower entrance of the herb garden is.  A final hike through the garden will bring me to the top station, where great views, honey soft-serve and herb souvenirs await. Enough walking for the day. Definitely coming down via the ropeway.
Houses & Starbucks (History)
Near to Shin-Kobe Station is an area known as Kitano. It is famous for its many foreign mansions such as England House, Dutch Museum, Uroko House etc. The surroundings are pretty for photo taking, like a European town.  And one of the must visit places is the Kitano Starbucks. Definitely taking a break here.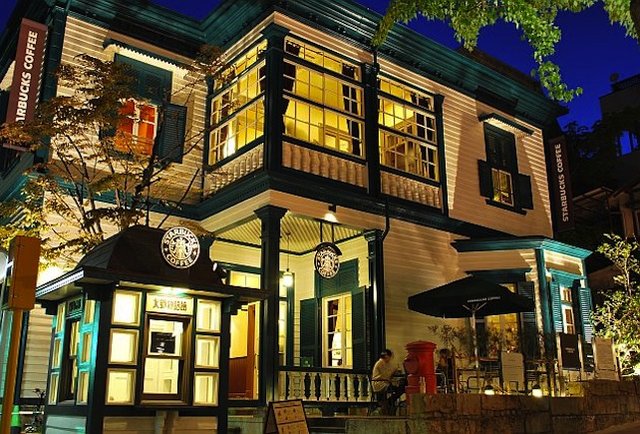 Sannomiya & Motomachi (Shopping)
These are the 2 famous shopping streets in Kobe that stretches from Sannomiya Station to Motomachi Station and ends at Kobe Station. Many of Kobe's well-known confectionery shops are based here – Morozoff, Kobe Fugetsudo, Juchheim. I am going to have a very sweet time walking through these streets.
Beef & Pudding (Food)
Kobe is synonymous with beef and recently pudding, thanks to KitKat's Kobe Pudding flavour. Kobe Pudding is a brand that can be found everywhere in Kobe.  I will be looking out for the limited autumn chestnut flavour pudding. Not very keen about Kobe beef. But if I can find the shop around Motomachi Station that sells raw Kobe beef, maybe I can find something to bring home.
Meriken Park & Harbourland (History, Food & Shopping)
Situated along the waterfront of the Kobe port area, Meriken's highlights are the Great Hanshin Earthquake Memorial and the red steel structure, known as Kobe Port Tower.
Over on the other side of the port is Harbourland, a place for food, shopping and entertainment. It will be a nice place to have dinner and to walk around before heading back to Osaka from the nearby JR Kobe Station.