Ginga Waterfall (銀河の滝) & Ryusei Waterfall (流星の滝)
Looking forward to see frozen waterfalls on my drive out of Sounkyo towards Lake Akan.
Okhotsk Beer Factory
A stopover at Kitami for a lunch of beer and noodles. Not a great fan of beer but maybe I'll try the fruity one.
Aioibussankan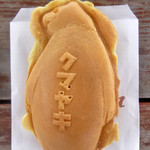 Taiyaki literally means grilled (yaki) sea bream (tai). It is a Japanese fish shaped pancake snack stuffed with red bean paste. It is one of my favourite treats, especially when the filling is sweet potato puree. Just before Lake Akan is a small town called Aioi with a rest stop that sells bear shaped pancake. Got to try it.
Lake Akan Tsuruga Wings
Second onsen hotel of the trip. Part of the Tsuruga group, this hotel houses the famous Hokkaido Buffet HAPO, ranked number 1 buffet in Kushiro by tabelog and highly recommended by K.K. This hotel is also close to the Ainu Village and town centre. To top it off, it is connected to the more expensive Akan Yuku no Sato Tsuruga, where there are 2 outdoor hot spring baths which we can use and free onsen eggs, soup and steam potato at the lobby. After reading all these, I switched my initial booking for Forest of Lake Akan Tsuruga HANAYUUKA to Tsuruga Wings.
Ainu Village
One of the indigenous people in Japan, this village is lined with shops selling woodcraft and embroidery.
Pan de Pan
Known for its cream puffs and miso pudding, this bakery is ranked number 1 in Kushiro by tabelog. Definitely not missing this.