Prior to my Japan trip last year, I searched up sights to see, food to try, things to buy etc. And it was great fun. So I want to do the same for my upcoming Hokkaido trip. I may have my itinerary all mapped out but it's almost always impossible to follow it to the letter. Weather conditions, surprises along the way and with 10 people traveling together in 2 cars, plans are bound to change. So it's good to prioritise, to narrow down to the must see, must eat and must buy. Of course, it's still no guarantee that all these will come to pass but at least there's some focus, right? So here goes:
(To read what I actually saw, ate and bought, CLICK HERE)
Must See
1. Penguin Parade at Asahiyama Zoo
I've seen penguins swimming and waddling in their enclosure in the Singapore Zoo. But to see them parading down the snow freely is a sight to behold.
2. Ice Village at Tomamu Ski Resort
This will really be weather dependent. I've booked 2 nights at Tomamu Tower on 7 and 8 Dec, so hoping it'll be like last year where winter set in early and the ice village opened on 1 Dec.
3. Sapporo White Illumination
Last year we left Osaka right before the winter illumination. We missed the Osaka Hikari Renaissance illumination event and the famous Kobe Luminarie. I'm glad that this time all the light-ups start in mid-Nov. An added bonus is the Munich Christmas Market. I hope it won't be a disappointment like the market at Tokyo Skytree.
4. Otaru Music Box Museum
Imagine a place filled with music and intricate boxes. I'm not a fan of jewelry but I've always been fascinated with jewelry boxes. If I find something I like, I might just buy it and figure out later what to put inside.
5. Royce Chocolate World
I plan to visit 2 chocolate factories – Shiroi Koibito Park in Sapporo and Royce Chocolate World at New Chitose Airport. If I have to chose 1, I'll go for Royce simply because I love Royce chocolate more than Shiroi White Lovers' cookie. It'll be cool to see how the chocolates are being made. And according to Bumble Bee Mum, there's a bakery inside the world that sells buns with whole slabs of chocolate sandwiched in them!
6. Tancho at Kushiro
These cranes are best seen in winter as they gather at the various feeding sites around Kushiro. I hope to catch them in action when I visit Tsurui Ito Tancho Sanctuary, Tsuruimidai and Hokuto Viewpoint.
Must Eat
1. Pan de Pan at Lake Akan
Pan de Pan is a bakery cum cafe so bread is definitely on the menu. But what makes it popular among food reviewers are their cream puffs and miso pudding.
I love cream puffs. My first taste of it was from an authentic Japanese bakery at the old Hong Leong Garden Shopping Centre. I could still recall the light airy pastry covering a mountain of creamy custard. Ever since the bakery closed down, I never found any puff that tasted as good as that. I really hope that the cream puff at Pan de Pan will live up to its reputation.
2. Butadon at Obihiro
Simply translated as pork bowl, this dish consist of pork slices simmered in a sweet sauce and served on a bowl of rice. It originated from Obihiro and within walking distance from Obihiro Station are 8 restaurants recommended by the Tokachi Bureau. Panchou is the most famous but it has a small seating capacity, so I'll be taking my group to Hageten. Not only do they serve butadon, there's also tempura and other local dishes.
3. Cranberry at Obihiro
The shop may be called cranberry but its bestseller since 1972 is Sweet Potato. It looks exactly like a baked sweet potato with the skin except that inside is sweet potato and custard cream. You can buy as a whole by weight or a slice.
4. Uni and Uni Ice-cream at Otaru
There'll be lots of opportunities to have fresh uni – Washo Market at Kushiro, Hanamaru at Sapporo, Toppi Sushi at Otaru and also the buffet dinners at the various onsen hotels. So this is a "will eat".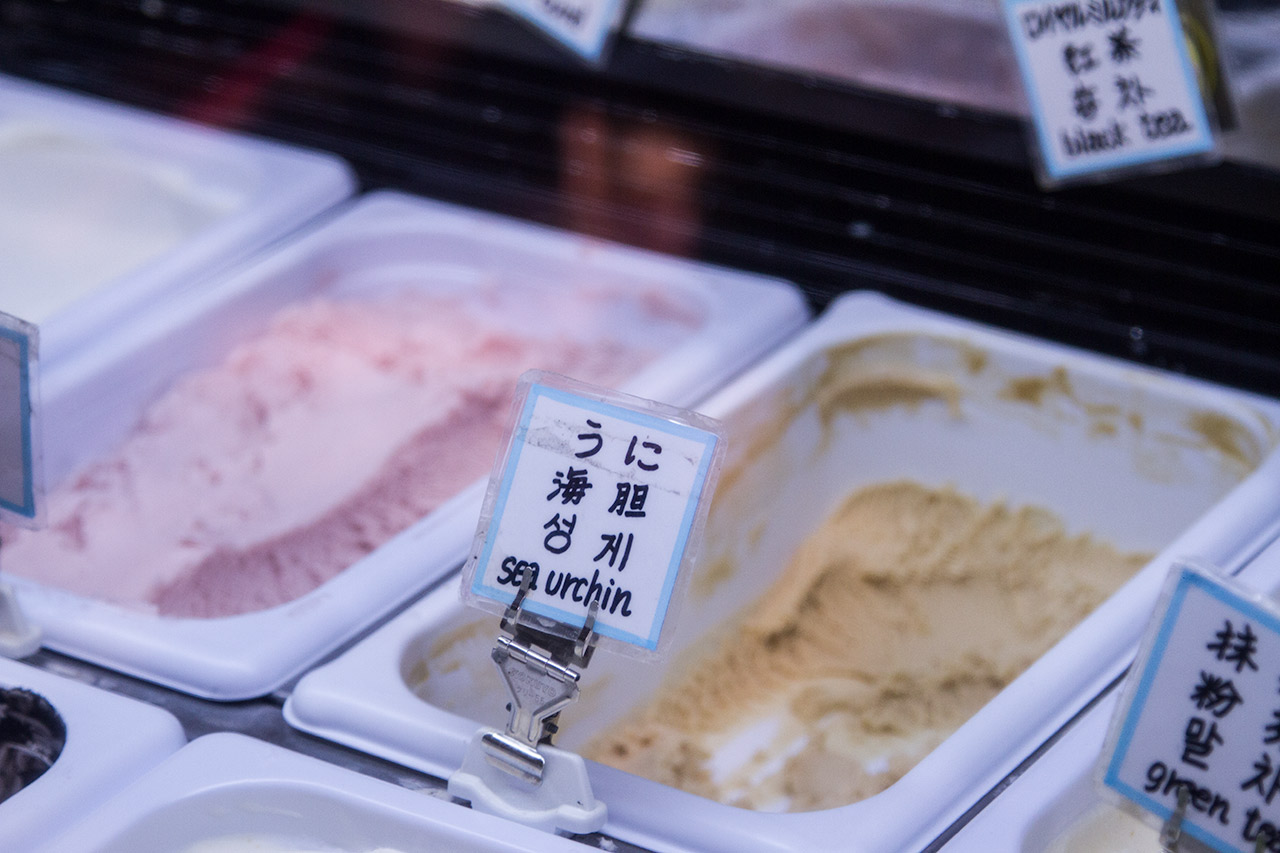 How about uni ice-cream? What I gathered is that the only shop that sells this is Kita no Ice Cream Ya San at Otaru. Let's see if it's really good or just an acquired taste.
5. LeTAO at Otaru
It's really hard to pick 1 thing to eat at LeTAO. So I cheated and chose 3 – the famous Double Fromage cheesecake, the Royal Montagne (chocolate blended with Darjeeling tea) and the Bin de Fromage. But I doubt this will be the final 3. I read that the different stores in Otaru have their own limited edition creations so I might just try those. After all, I can pack back the cheesecake and the chocolates. Not sure about the fromage in the glass bottle.
Known as the king of cream puffs! Just look at the different types below!
At the top, we have the normal ones (1st 2) and the doughnut kind. On the 2nd row, we have one made of glutinous rice, one only available at New Chitose Airport and finally one made of croissant dough only sold at the new store in Sapporo. Gonna try them all!
Can you guess from the pictures below what Naruto-ya sells?
It's none other than the popular Otaru fried chicken. I'm not sure if this chain is related to the famous Wakadori-Jidai Naruto restaurant. Since most in my group are not into fried food, I won't get to try the famous Naruto. Well, Naruto-ya has very good reviews too, so I'll settle for take-away.
8. Tonkatsu 
A trip to Japan is not complete without eating tonkatsu. During my last visit in Nov, we bought Maisen from Tokyo Station to eat on the shinkansen to Osaka. Later on we had sit down meals at 2 tonkatsu chains – Tonkatsu Wako @ Isetan Kyoto Station and Tonkatsu Ganko outside Nara Station. The combination of juicy pork, succulent oysters, crunchy cabbage and sweet clam soup are unbeatable. I think the closest I can find in Singapore is Saboten. And that's only for pork and maybe the cabbage. So it's wonderful that I'm going to eat the real stuff soon. But the bad news is there're too many choices.
 Maisen @ Sapporo Tokyu Store 10F
 Tonkatsu Wako @ Sapporo Stellar Place 6F          (5 other locations)
 Tonkatsu Tadumura @ Sapporo Daimaru 8F (menu)
 Ajidokoro Teppei (味処 てっ平)@ Tomakomai
Ajidokoro comes highly recommended by Kimi and Good! Hokkaido, 2 blogs I used for my trip research. What I love is that besides pork cutlets, it has prawns, scallops, squid and fish. It is on route to Noboribetsu from Chitose RERA outlet mall, and also on my way to Sapporo from Noboribetsu, giving me 2 opportunities to have lunch here.
The tough part is choosing between the 3 in Sapporo. Maisen is famous in Tokyo, Wako is tried and tested, and Tadumura is supposedly a local favourite according to bumblebeemum. As of now, I'll choose 3.
Ok. I'm going to stop at 8. There're still some famous Hokkaido eats like soup curry, Genghis Khan and ramen not on my list. Don't think I'll specially hunt them down as a few in my group of 10 don't enjoy these food. I'll just attempt to try these whenever I can. Most probably at New Chitose Airport since there's a stall in the food court – Matsuo Jingisukan, that serves good Genghis Khan. And there's Ramen Dojo, where 10 famous Hokkaido ramen stalls can be found under one roof.
Must Buy
1. Capsules
You must be wondering what in the world are capsules. Well, they are those plastic balls that fall out of the machine when you insert coins in. I have my eye on 3 different capsules, one in Haneda Domestic Terminal, the other in New Chitose Airport and the 3rd in Asahiyama Zoo. It'll be fun to see what figurine I'll get.
2. Postcards
While preparing Sunday school materials on Paul's missionary journeys, I came across "Postcards from Paul". This book gave me the idea of getting postcards to chart my travels across Hokkaido.
3. Sapporo Clock Tower Nanoblock
I've been wanting to build this for the longest time. Now that I'm going to see the real thing, there's a greater incentive to get it from either Yodobashi or BIC Camera.
4. iphone Cover
Almost bought a ShellieMay iphone cover last Nov in Disney Sea. Back then, I just received one from my daughters so decided not to. Well, it has been a year and my cover is currently chipped and fraying. So I'll be keeping a look out for pretty covers during our shopping.
5. 2017 Planner
My younger girl developed a habit of writing diary ever since I bought her a Tomoko Hayashi illustrated 2015 schedule book from NBC Stationery & Gifts. Because we visited Japan during the end of 2015, we found the 2016 planner by the same illustrator at Loft. And the price was 40% cheaper than in NBC. Our timing this year is slightly later but I'm sure it'll still be available. Guess which one caught her eye?
Like daughter like mother, I too love planners. But I like mine bigger with more space to write. Which is why I bought the Laura Ashley 2016 Diary edition by PAGEM that comes in A5 size. The picture below shows the 2017 collection but there're all 3-5 year diaries, can't find the yearly ones. Anyhow, I'll be getting the 3 year edition in case I won't be visiting Japan next year.
6. Food
Just look at all the yummy stuff. How to fit everything into the luggage bags? And these are merely a fraction of what Hokkaido has to offer.
We have Kitakaro Baumkuchen and Okaki, Ryugetsu Sanpouroko, Rokkatei Marusei Butter and Daiheigen, Royce Chocolate Bar, LeTAO Double Fromage, Hokkaido Milk Castella, Kinotoya Milk Biscuits and Cheese Tarts, Instant Ramen, Amato Marron Coron and Morimoto Haskapp Jewelry.
Well, these are the 6 Must See, 8 Must Eat, 6 Must Buy that I've singled out. Stay tuned to my post trip posts to find out if I get to experience all of these and more.